Intertwining bridal fashion & boudoir aesthetics
Our design philosophy is to create wedding party dresses that can transcend long after the big day is over. Made with the finest and ethical fabrics with unparalleled craft and attention.
Cécile de Fleur
Cécile de Fleur pays tribute to a fully bloomed femininity through high-end bridal fashion and festive dresses favored by artists and celebrities. The sustainable gowns imagined by Jennifer Reyes for the brand established in New York in 2021 proudly celebrate sensuality and assertiveness. Her creations are all about favoring authentic and mindful couture to empower women. Cécile de Fleur ignites female sensuality, inviting women to freely expose themselves as they are. When it comes to saying 'I do' to your one and only soulmate or dazzlingly performing on stage, Cécile de Fleur stands by your side.
Inspired by a French je ne sais quoi, the brand's garments bring to mind a boudoir aesthetic lingering towards glamorous silk negligees and lingerie slit dresses. But make no mistakes: Cécile de Fleur creations are designed to be seen in broad daylight. Slit dresses and bustier wedding gowns flatter the silhouette and reveal the inner sensuality.
Shop the collection
Honoring a Woman Metamorphosis
Cécile de Fleur collections are as much about being beautiful as empowering women to be true to themselves. Our brand celebrates duality to lighten the magic of contrasts in our lives. The brand's creation expresses a significant sense of intimacy while being designed to be seen and admired. The most ethereal fabrics and delicate finishing are a testament to women's strength and boldness. Beauty reaches new depths and fashion becomes its messenger.
Dawn and dusk are reconciled as Cécile de Fleur invites us to find the light in every moment. Profoundly holistic, Cécile de Fleur's vision celebrates body and soul and treasures a woman's mystery as well as her desire to stand out. Couture gowns and dramatic bridal dresses intended for women stepping into a new chapter of their life become the incarnation of rebirth. This metamorphosis inspired by Jennifer's personal story is also a reminder of the butterfly journey. This poetic fashion metaphor pays tribute to ahimsa silk, a luxurious material gently obtained from the butterfly cocoon as it takes flight for its new life.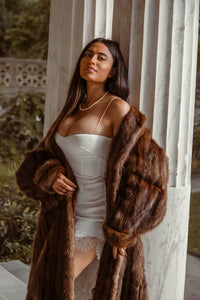 Mindful Couture
Cécile de Fleur is paving the way for conscious couture. Wisdom is at the core of our brand's creative process. Cécile de Fleur gowns are intended for wedding parties and ceremonies but these versatile creations can be worn long after your special day for any sophisticated event as detachable spaghetti straps turn wedding dresses into glamorous bustier gowns.
Our independent label only selects the most exquisite materials magnified by artisanal craftsmanship. Bridal fashion collections and party dresses are made in an atelier in New York City and offered in limited editions to embody every woman's singularity as well as our commitment against overproduction. Our clothing's provenance underscores the integrity of our mission: intentional, ethical, and timeless.
The most ravishing floral patterns and embellishments blossom on a delicate French Chantilly leaver lace. Organic ahimsa silk, also known as mulberry peace silk, is still traditionally and consciously produced in India. The luxurious GOTS-certified fabric offers gorgeous plays of light and softly ruffles the skin.
Meant for extraordinary moments, Cécile de Fleur's conscious and timeless couture is a pure celebration of life and joy. Sprouting life to earth one dress at a time, for every purchase, 1% of the proceeds is donated to Tree Sisters Organization to support reforestation. The brand's hangtags made from seed paper will give birth to wildflowers to give back to nature and its eternal circle of life.
Fashion made Art
Cécile de Fleur makes a statement. Every creation is unique and crafted in limited quantities according to artisanal standards. These one-of-a-kind gowns aren't far from fine Art pieces. Brides, artists, and event-goers are invited to shop online while Jennifer is still searching for the perfect place that will for sure look more like an Art gallery than a bridal showroom. Comfortable and perfectly fitted, the gowns inspired by opulent negligees feel sculpted on the female body. Inspired by the back of paintings, the hangtags express our attention to detail.
"
I have a strong need to create a better world & accomplish my life's true purpose. That is to create beauty, contribute to the environment & animals, express love & spirituality through my work.

"