Meet the founder
My Journey Down the Yellow Brick Road
Jennifer Reyes
...the woman behind Cécile de Fleur.

Born and raised in New York, Jennifer's Salvadorian and Dominican heritage is very dear to her heart. Some might even say her Latin lineage is the fire that ignites her label's sensuality. Indeed, the fire burning in Jennifer's heart was never extinguished despite the challenges. The story that led to the label's creation is one of a deeply intimate spiritual awakening, yet this journey resonates with many of us.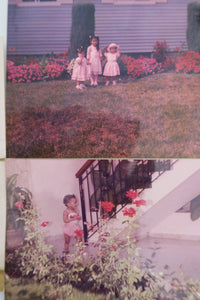 Passionate about fashion and nature, Jennifer always knew she would find a way to intertwine what mattered most to the young dreamy girl she was not so long ago. She graduated from the New York City Fashion Institute of Technology and started a successful career in fashion. When the time to launch her brand came around, Jennifer felt helpless facing fear and anxiety.
A Beautiful Mistake
Jennifer can still trace back to the exact moment when she envisioned Cécile de Fleur. Looking over the New York City skyline she wiped out the tears of losing her job in the middle of the pandemic. Her robe was slightly falling off-shoulders when she saw her reflection in the windows. Her blurry melancholic alter ego had a fragile yet sexy allure and behind her tears, a little spark couldn't be ignored.
"I was a teardrop away from living my life's true purpose."
Every cloud has a silver lining
The path Jennifer walked is a story of metamorphosis, a search for balance. It's a leap of faith to embrace lightness and turn our darker moments into creative fuel. Her personal story finds an echo in every woman's life. Like a butterfly, Jennifer grew and found her way to take flight from her cocoon to write the new creative chapter of her life.
Intentional, purpose couture is Jennifer's way to promote a fashion model gentler to ourselves and our planet. Cécile de Fleur is truly about living happily ever after no matter what…
"
Life has a way of leading us back to our childhood passions. It is shown from having the same hobbies. It is shown when the eyes sparkle with joy. It is shown from the repetitive patterns you repeat and sometimes it's shown during your dark time. Pay close attention!

"